Join Happy Dog's New Affiliate Program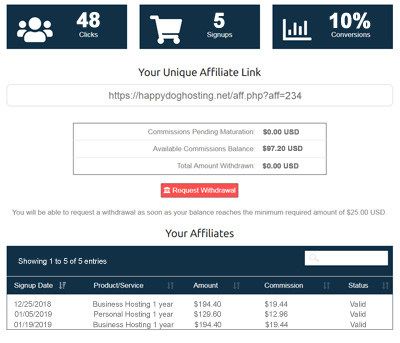 If you have a hosting account with us you can earn extra money effortlessly by promoting our services through our free affiliate program. Once you've created your affiliate account you'll receive a unique referral link to place on your web site. Whenever someone clicks that link they are directed to our website, and after signing up for a hosting account a 10% commission is credited to your affiliate account, making you money while you sleep! And this commission is added every time the referral renews their hosting, whether monthly, biannually or annually. This can really add up over time. It's easy to join. Simply log into your account and click My Account from the top menu, then My Affiliates.
---
Posted 01/31/2019, 10:06am
Updated: 01/31/2019, 10:06am
Read 7283 times
Similar Articles
There are currently no similar articles. Please check back later.